About me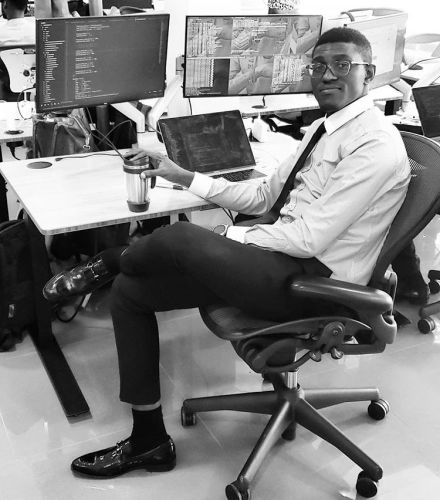 Ariama Victor (ovac4u)
Fullstack
Developer / Programmer
Hi! I'm Ariama Victor (ovac4u). I'm a Fullstack Developer/Programmer, Usability Consultant, UI Designer and Entrepreneur and 3d Visualiser based in East Legon, Accra. Ghana. I'm into all things web, 3d and mobile.
Currently, I help startup founders build great products that promote a positive user experience through my Usability Hour consultation service.
I'm the founder of RescopeNet, incorporated in Silicon Valley U.S.A. RescopeNet is a group if innovators that use cutting edge web technology to transform great software startup ideas and dreams into a reality. I am also a co-founder and President of Trendy Clue, an online wedding magazine.
When I'm not doing those things, I try to humor some fans on my Kid sister's FB page (Denzie Bae).
I am also a strategic investor and am trying every once in a while to invest in people with feasible ideas
My Portfolio
About Me
Resume
I have spent over eight (8) years practicing web development and design.
Experience
Feb 2013
-
Present

Nov 2011
-
Present

Freelance

Front-end Developer

Dec 2009
-
Present
Education
2013
-
2017

Wisconsin Internation University

BSc. Business Management and Computer Studies

2011
-
2013

2010
-
2008

Heirs Of Salvation

High School

2006
-
2008

Living Stone Model Colledge

High School

2005
-
2006

Latmos Comphrensive Colledge

High School
Download Resume
My Resume
Services / Pricing
I'm always happy to be outsourced as an extension to your team. Contact me and let's discuss pricing. All prices are negociable.
Developement

SEO / Digital Marketing

Branding

Web Design

Research
What i do
My skills
I have useful skills in coding, business planning, management, data science, cyber security, marketing, e.t.c. Infact, I have started, run and sold several businesses and online platforms. I have also worked with some wonderful people accross different business sectors. You will see more information in my portfolio.
my skills
My Portfolio
Just a few among others without NDA's.
Working Process
My best software development process is the Agile Methodology. Why? Because I love to work back and forth with you or your team and the product consumers so that I may understand the job/assignment and provide maximum satisfaction. My first instinct is understading and then getting the job done.
01. Assignment Study

I study your assignment or design (use case, diagrams, research, plan or idea) .

02. Development

I get the job done as fast as possible with the best quality.

03. Deployment

I submit your job in due time for review and futher iteration.
How i Work
Blog Posts
Latest blog posts.
Blog Posts
Contacts
I'm always happy to meet you over a cup of coffee. If consulting with me is not valuable, I'll pay double for the time wasted.
contact@ovac4u.com
iamovac@gmail.com
+233553577261
+234813450395
Contacts